Today on the Youtube edu­ca­tion chan­nel, we talk about our favourite lens­es and how we use them. Lens­es are prob­a­bly the best and most impor­tant invest­ment any cin­e­matog­ra­ph­er can make. While its sim­plest role is to focus the light from a scene onto the cam­era sen­sor, a good lens will sig­nif­i­cant­ly reduce flare and inter­nal reflec­tions, min­i­mize dis­tor­tion and chro­mat­ic aber­ra­tion, all while boost­ing colour and con­trast. Best of all? While your cam­era body may only last 2–3 years, good glass bare­ly depre­ci­ates and, if cared for prop­er­ly, there's no rea­son why a lens shouldn't last for 20 years or more. con­tin­ue read­ing »
The Mōvi M5 from Freefly Sys­tems might very well be the best film­mak­ing tool in our entire arse­nal. Used prop­er­ly, it func­tions as a steady­cam, a dol­ly, a shoulder-mounted rig, and/or crane in one portable, motor-driven pack­age. Pair that with a Canon EOS C100 with Dual Pix­el Auto-Focus and your cre­ative pos­si­bil­i­ties are lim­it­ed only by your imag­i­na­tion.
Time and time again, we have come to the con­clu­sion that there is no bet­ter gear com­bi­na­tion for wed­ding, doc­u­men­tary, or com­mer­cial projects.
3 years ago, we made a tuto­r­i­al as soon as the Mōvi M5 had dropped. Back then, gym­bals were a fair­ly new con­cept and, in that video, we talked about mount­ing a C100 on an M5. Fast-forward to today, this is still our go-to rig and we've learned a lot of dif­fer­ent ways to use it, putting togeth­er a rig con­fig­u­ra­tion that allows us to shoot quick­ly and effi­cient­ly. Our inbox­es are con­stant­ly flood­ed with ques­tions about our set­up, process­es, thoughts, and how our sto­ry­telling has evolved with this tool. So today, we're hap­py to share: The Ulti­mate guide to Fly­ing a C100 on a Mōvi M5. con­tin­ue read­ing »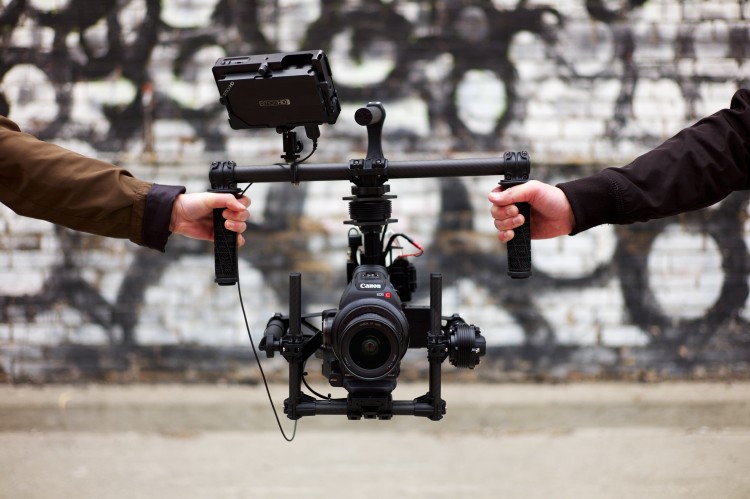 UPDATE: As insight­ful as this post and video are, they are 3-years old and were made with­in a week of us get­ting our hands on the Movi M5. Since then, our set­up and tech­niques have evolved and we have made a follow-up post which cov­ers every­thing you need to know about fly­ing a C100 on a Movi M5.
Like a lot of film­mak­ers out there, when we first saw Vin­cent Laforet's behind-the-scenes video show­cas­ing Freefly System's Movi M10, we were very excit­ed. A tool that uses motors to sta­bi­lize a cam­era on a 3-axis gim­bal? Yep, that's pret­ty cool, but what real­ly made it rev­o­lu­tion­ary was it's design. You didn't need a vest to oper­ate it, and it wasn't cum­ber­some, or long, or wide. It was actu­al­ly a pret­ty small set­up, and when we saw the oper­a­tors pass the rig through hula-hoops, dip it close to the ground, and hop on roller blades in one take, we all knew the game had been changed. con­tin­ue read­ing »