Like a lot of film­mak­ers out there, when we first saw Vincent Laforet's behind-the-scenes video show­cas­ing Freefly System's Movi M10, we were very ex­cited. A tool that uses mo­tors to sta­bi­lize a cam­era on a 3-axis gim­bal? Yep, that's pretty cool, but what re­ally made it rev­o­lu­tion­ary was it's de­sign. You didn't need a vest to op­er­ate it, and it wasn't cum­ber­some, or long, or wide. It was ac­tu­ally a pretty small setup, and when we saw the op­er­a­tors pass the rig through hula-hoops, dip it close to the ground, and hop on roller blades in one take, we all knew the game had been changed.
Only a year af­ter that, the Movi M5 brings those same rev­o­lu­tion­ary traits in a smaller setup and an af­ford­able cost, and as soon as we saw the slight­est hint that a Canon C100 could be mounted on one, we didn't hes­i­tate to or­der one and start fly­ing. Now, there is a bit of a learn­ing curve when try­ing to get a C100 to work flaw­lessly with the Movi M5 since you do have to re­move the side grip off of the body, so we de­cided to make a video (sit­ting at the bot­tom of this post) that hits on what we re­ally love about the Movi and how we mount and op­er­ate a C100 on it. We called on our good friend and amaz­ing street pho­tog­ra­pher, Tyler Hayward, to be the star as we fol­lowed him around the west side of Toronto for the day.
We don't want to touch on any­thing that we talk about in the video, but we did want to write a short post on what we like about the Movi M5 (be­cause we're just that ex­cited about it).
From Ricardo:
If I were to list every­thing I like about the Movi, we'd be here all day. I'm Movi ob­sessed. It's been a few weeks since it came in and I still get urges to bring it out with me on dog walks just to try out new move­ments and set­tings, and that speaks vol­umes about how much fun it is to play with this thing.
I think the biggest ques­tion, es­pe­cially for a lot of wed­ding video­g­ra­phers, is go­ing to be how does it com­pare to a more tra­di­tional setup like a Glidecam or Steadicam. The thing is, with ei­ther the Glidecam or Steadicam, the footage will be as sta­ble as the op­er­a­tor, and as time on a shoot wears on, that gets harder and harder. Whereas with the Movi, the mo­tors are con­stantly bat­tling any shake you throw its way. That, com­bined with two-handed op­er­a­tion, makes the M5 a more re­li­able and con­sis­tent tool in our books, and when you're work­ing a wed­ding where you only get one shot to cap­ture a spe­cific mo­ment, this is price­less.
We haven't had a chance to even throw a DSLR on it be­cause we've just been so happy with the C100. With a DSLR, you're con­fined to the old workarounds of fly­ing a steadicam – hav­ing to stop down to f/8 or lower, cal­cu­lat­ing hy­per­fo­cal dis­tances, and not get­ting the sharpest footage in the world. But a C100 with the dual-pixel up­grade is a beast on the M5, push­ing the lim­its of what can be achieved as a sin­gle op­er­a­tor. That means shoot­ing wide open isn't an is­sue any­more, and fly­ing on a sta­bi­lizer at f/1.4 re­ally is a jaw-dropping ex­pe­ri­ence.
From Victoria:
What I like about the Movi is that I can ac­tu­ally use it. We never up­graded to a vest for our Glidecam setup be­cause we were al­ways afraid of how in­tim­i­dat­ing it would be for our cou­ples when shoot­ing a wed­ding. Flying a Glidecam with­out the help of a vest or arm brace is a heavy task and made it im­pos­si­ble for me to use it for longer than 30 sec­onds at a time with­out wob­bling un­con­trol­lably. But the M5 you can hold with two hands, mak­ing it ac­tu­ally pos­si­ble for me to op­er­ate.
I al­ways get re­ally ex­cited about tools that push the bound­aries of where we can take our cin­e­matog­ra­phy, and the Movi does just that. There are re­ally no lim­its on what you can do with the M5 as long as you have the imag­i­na­tion. You can shoot mil­lime­ters off of the ground, pull it up to re­veal a shot, pass it to a sec­ond shooter and hop in a car all in one shot. These are things that are un­heard of with other sta­bi­liz­ers, and pushes you to think of new ways to tell a story that takes ad­van­tage of all these new pos­si­bil­i­ties.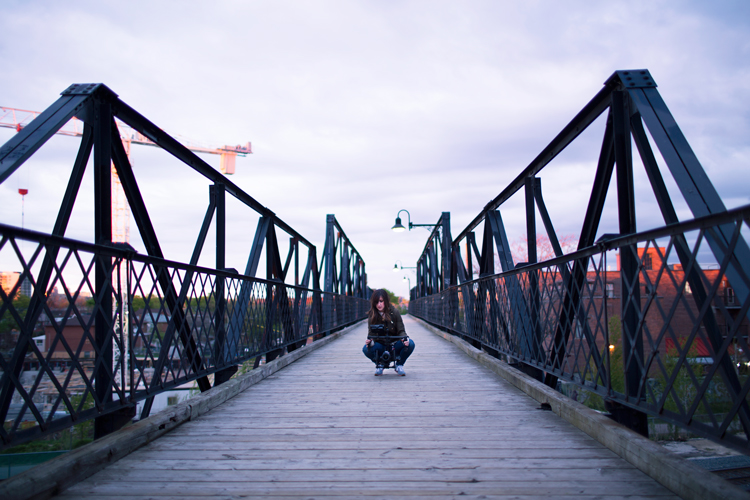 A Few Concerns…
You fall in love with the Movi so fast that you find your­self over­look­ing its small quirks, but that doesn't mean they're not there.
In many ways, this is a much more com­pli­cated setup than tra­di­tional sta­bi­liz­ers. We used to throw our Glidecam in the car, or just drop it and hop on a mono­pod or tri­pod while shoot­ing – we knew it could han­dle it. A Movi feels a lot more frag­ile. It comes with a stand (more on that in a sec­ond), and it is made to be placed on that stand when not in use. Sure you can throw it on the ground or in the car in­stead of the stand, but it feels wrong to do it, and even the small­est change in weight or po­si­tion of the stage can throw it off-balance. Not that it's very hard to get it to bal­ance again, but it is some­thing we've never had to worry about be­fore. Then there's the fact that you can't use it with­out a mon­i­tor, and that the way the ca­ble con­nects to it can oc­ca­sion­ally throw it off-balance as well. It's just more things to worry about, set up and look af­ter at the end of the day.
And yes, there's the stand which needs to come with you every­where. It's nearly im­pos­si­ble for the Movi to power on and bal­ance with­out sit­ting on the stand for about 15 sec­onds. So, it needs to by your side on the off-chance that you might want to turn it off, or in case you run out of bat­ter­ies.
These are things that might turn a lot of wed­ding cin­e­matog­ra­phers off of the M5 al­to­gether, but we re­ally feel the re­ward is worth all the trou­ble.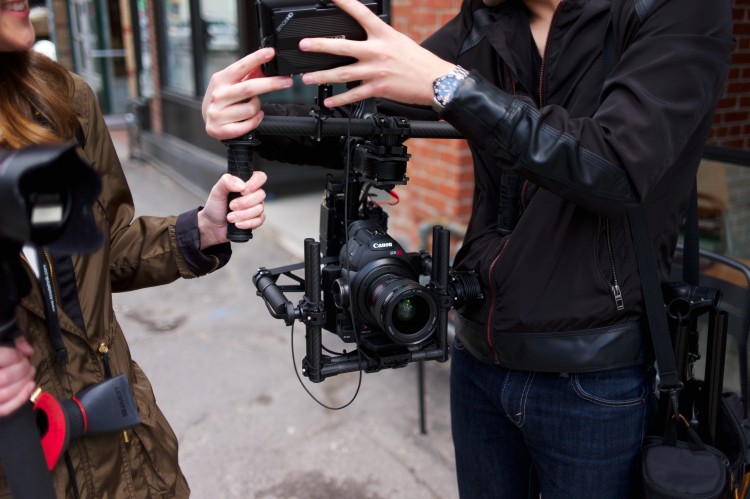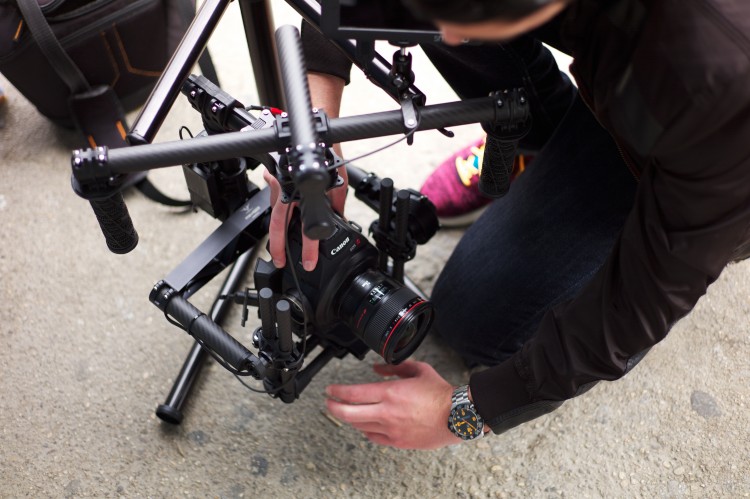 This is a game changer.
If it hasn't been clear enough, we love the Movi M5. Just as the M10 has been mak­ing waves in big­ger pro­duc­tions, we feel the M5 will make even big­ger waves since even more film­mak­ers will be able to make use of it. We've been hav­ing a blast with it so far and can't wait to push the bound­aries in our wed­ding work this sea­son.
So, with­out fur­ther ado, here is a video on our first thoughts on the Movi M5 and how to get started with a Canon C100. Enjoy!